Innovative CeramCool® Technology
Thermal Management with Ceramic Heat-Sinks
Highly thermally conductive CeramCool® aluminium oxide and aluminium nitride ceramic heatsinks offer new possibilities for thermal management of high performance electronics, photovoltaics, LEDs and other applications. These convince with high electrical insulation, chemical resistance, corrosion resistance and numerous other strengths.
PCB & Heat Sink effectively combined
CeramCool® heat sinks are an effective combination of PCB and heat sink for the safe cooling of thermally sensitive components and circuits. They enable the direct and permanent connection of components and are ideally suited for thermal management and cooling of power-intensive circuits in high-performance electronics, high-power LEDs or photovoltaic systems.
Chip-on-heatsink technology eliminates the additional layers and thus thermal barriers required in traditional setups. In addition to thermal resistances, this also reduces the number of components and the possible causes of faults in the overall system. This has positive effects on the assembly effort and thus ultimately on the system costs. For innovative thermal management with ceramic heat sinks, the following therefore applies: "Keep it simple" - a simplified system design optimises heat dissipation.
The ceramic materials used are Rubalit® aluminum oxide and Alunit® aluminum nitride, which can be provided with various metallisations and conductive path structures, if required also three-dimensionally and "around the edge". With chip-on-heatsink, CeramTec has also developed a process that enables optimal thermal coupling to the cooling medium.
Nuremberg, 10-12 May - PCIM Europe is the leading international trade fair and conference for power electronics, intelligent drive technology, renewable energy and energy management.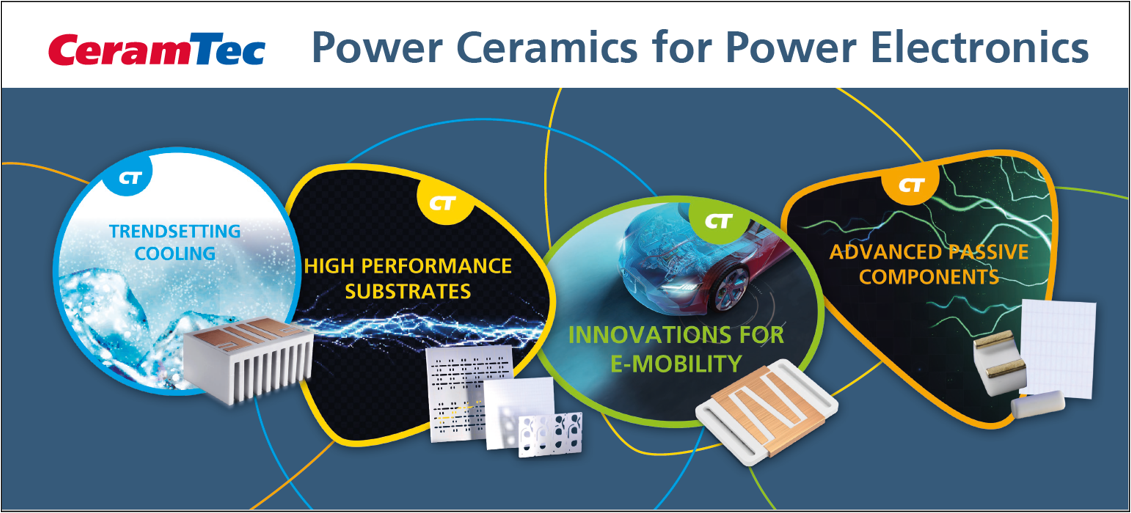 Innovative cooling solutions in eMobility
Would you like to learn more about our cooling solutions and thermal management made by CeramTec? Then discover our innovative ceramic solutions for numerous applications in eMobility.