Ceramics Expertise for the Textile Machinery Industry
New Dimensions in Textile Machinery with Technical Ceramics
Combining excellent knowledge of ceramic materials with expertise in ceramic design and surface finishing has helped establish CeramTec as one of the leading suppliers of advanced ceramic components for the textile machinery industry.
With its extensive material range and continuously growing production expertise in the field of ceramic components for textile processing, CeramTec offers a comprehensive line of products for textile producers and textile machinery manufacturers.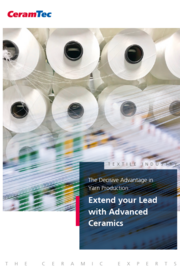 CT Top Downloads
Industrial Applications
Textile Machinery
Advanced Ceramics for decisive Advantages in Yarn Production
CeramTec Textile Machinery
Download
Direct contact to our colleagues in China
Are you interested in the Chinese market? Then get in touch with our colleagues in Suzhou, China directly!