CeramCool® Use and Applications
Cooling systems based on CeramCool® ceramic heat sinks can be used efficiently, persistently and reliably for heat dissipation in a wide variety of applications and fields of use - from automotive engineering and power electronics to energy generation and LED lighting technology.
Cooling in Automotive Engineering
Hybrid and electric vehicles (HEV Hybrid Electric Vehicle, BEV Battery Electric Vehicle) in particular require the highest possible electrical outputs for drive motors paired with long life and extreme reliability in the smallest of spaces.
This is where highly efficient CeramCool® liquid coolers offer decisive advantages: both thermally in cooling thanks to their very low thermal resistance and electrically, as the ceramic heat-sinks are already excellent insulators in their own right.
Thermal management in batteries: Heating during the start-up phase and cooling in operating conditions thanks to identical ceramic components
Ceramic insulators for high-voltage PTC heating modules in hybrid and eMobility applications
Electrical insulation and cooling in lighting applications (laser light, LED)
Over 20 years of experience with ceramic heat exchangers for power converters in subways and trams (electrical insulation, cooling)
Cooling for start-stop systems
Ceramic insulators in hybrid and electric vehicle inverters
Cooling in Power Electronics
In power electronics, chip-on-heat-sink technology makes it possible to reduce thermal resistance between the heat source (chip) and the heat-sink by (depending on the design) up to a quarter of the value compared to conventional cooling system design.
Thus, CeramCool® heat-sinks make it possible to achieve power densities that were previously unattainable.
Cooling in Energy Generation and Distribution
High-concentrated photovoltaics (CPV/HCPV) is the technology of the future for obtaining energy from light: Beams of sunlight are bundled tightly together and concentrated onto a small surface with high-power solar cells. If these are not efficiently cooled, they can be destroyed within a short period.
Efficient cooling is required, even during operation, in order to operate a CPV system with the greatest possible efficiency. This is where CeramCool® liquid coolers shine thanks to the optimum thermal connection between the CPV chips and the coolant.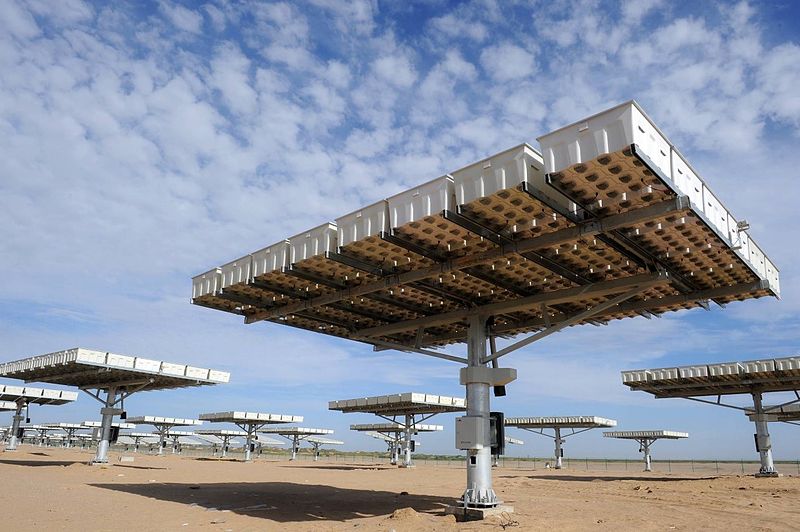 CPV modules in Golmud, China by Vinaykumar8687, CC BY-SA 4.0
Cooling in LED Lighting Technology
LEDs offer many advantages over conventional light bulbs. One key benefit is the significantly longer life of LEDs. However, this depends greatly on the temperature that the LED chip reaches during operation. As a general rule of thumb: A 10°C lower operating temperature doubles the life of a product. This is why cooling LED chips is so essential.
In addition, round CeramCool® heat-sinks with circuits metalized directly onto the ceramic can be used in LED technology for lighting in shops and stores for instance, enabling the brightest illumination possible with the lowest power consumption and smallest form factor.
High-quality ceramic materials and translucent cooling fins give the simple geometric base shape a truly fascinating appearance. One example of this was the Oktalite QUAD range of products, which relies on translucent CeramCool® ceramic as a cooling and design element in accent lighting and ideally showcases retail merchandise.