E-Mobility
Advanced Ceramic Components for E-Mobility
E-Mobility is one of the most dynamic markets of our time. Ongoing developments and improvements in battery-, charging- and drive technology pose new and challenging requirements toward relevant components. For the areas of power electronics, electric motors, as well as cooling and heating, CeramTec manufactures tailored component solutions using probably the most versatile and high-performing material there is—technical ceramics.
Quickly adapting component specifications for hybrid and electric cars for series production is decisive for E-Mobility becoming practical in everyday life. Thanks to a wide range of technical ceramics, as well as our production and engineering expertise, we are able to adapt the specifications and integrate them quickly and reliably into the high performance components for E-Mobility.
Further Areas of Application
Bearings & Sealing Technology
Bearings and seals made of technical ceramics are frequently used in drive systems in electromobility thanks to their high wear resistance and temperature resistance. They help to increase the efficiency and reliability of electric vehicles by enabling long-lasting and low-friction functionality of the mechanical parts.
Piezo Technology
There are numerous fields of application for piezoceramics in e-mobility: from tyre pressure sensors, which provide precise data to optimise energy efficiency and increase safety by keeping tyre pressure as constant as possible, to regenerative braking systems, in which kinetic energy can be converted into electrical energy and then fed back into the vehicle network.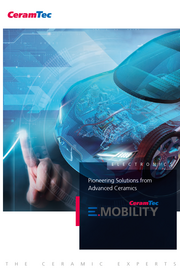 E-Mobility - Pioneering Solutions from Advanced Ceramics
Power Electronics - Sensor Systems - Bearings - Temperature Management - Electrical Insulation
Download
Innovative Cooling Solutions for Power Electronic
Our ceramic heat sinks for various thermal management tasks in E-Mobility have many things in common: Their high thermal conductivity while at the same time providing electrical isolation allows them to effectively and reliably control the heat development in small spaces when exposed to high electric loads. The sink's design and cooling performance are determined by the operation site and the required specifications.
Whatever cooling performance and sink design is required for E-Mobility? As your partner, we create individual cooling solutions taking into account technical and economic aspects.
Areas of application for ceramic heat sinks in E-Mobility:
Engine control unit
Charging unit
as well as for cooling of
Electric motors
High voltage battery
Cooperation for Optimal Cooling Performance
CeramTec and the Fraunhofer Institute for Integrated Systems and Device Technology (IISB) in Erlangen are working together to develop innovative cooling solutions for power electronics for a drive inverter. This joint project focuses on thermal management using ceramic coolers with applied metallisation. This makes it possible to apply semiconductor chips directly to the ceramic cooler (chip-on-heatsink). The collaboration focuses on the development of a module design that uses ceramic coolers to efficiently dissipate heat from the SiC chips, makes the best possible use of the chip area and keeps the size of the cooler as small as possible. In this way, high electrical power, which generates a lot of heat, can be reliably dissipated in a small space and the sizes of power modules can be miniaturised. In the measurements carried out by IISB, it was possible to halve the thermal resistance compared to state-of-the-art modules.
Fields of application
Circuit carriers for all power electronics and electronic components used in E-Mobility, such as:
Engine control unit
Battery charging unit
PTC heating elements
For a long time, circuit carriers made of various ceramic high-performance materials, such Rubalit® or Alunit®, have been appreciated for their excellent performance in the electronics industry and now they are also proving themselves invaluable in E-Mobility. Whether stamping, laser-cutting the basic shape, or metal plating: the conducting tracks are plated in our company according to customer layout with a structure which is tailored to the specific requirements.