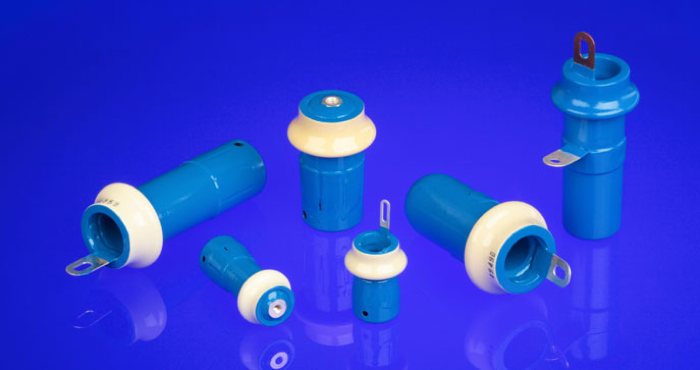 The high quality CLASS 1 ceramic dielectric materials selected for our RF pot capacitors feature low or medium permittivity, high Q factor (low loss) and high dielectric breakdown strength.
These compact capacitors are available in sizes from 30–45mm body diameter and 30–150mm length. Our standard range offers a wide choice in aspect ratios and terminal configuration styles so that customers can easily find a size and shape suitable for most applications. Custom designs are also available.
All our RF pot capacitors are made using low self-inductance construction, which allows them to be used at higher frequencies. And all our products are reliable and robust for long operational life.
RF pot capacitors are ideal for industrial and high power applications including:
Radio broadcast transmitters
Induction and dielectric heating equipment
HF filter, by-pass and coupling and oscillating circuits
High power matching tuned circuits
Antenna coupling circuits
Plasma generators
RF pot capacitors are available in standard and bespoke designs with a range of capacitance-voltage combinations, ratings and connections.
For more information on standard or bespoke RF pot capacitors for your project please contact us.