Solid Ceramic Friction Discs for Texturing Yarns
New Dimensions with proven Cerasoft®G Surfaces
Solid ceramic friction discs for three-axle spindle units in friction texturing of yarns have delivered impressive proof of their powerful performance for decades. Cerasoft®G friction discs set the global standard in this process.
Solid ceramic friction discs from CeramTec are extremely effective in the continuous operation of friction texturing. They offer a number of decisive advantages compared to friction discs made from other materials:
Long service life, thanks to high wear and corrosion resistance
Even and consistent yarn quality from position to position
No damaging effect from spinning preparations, i.e. free choice of finishing agents
No damage to the friction disc even when the yarn continues to run after the spindle has stopped
Remarkable flexibility in speed and titer ranges; also successfully used in microfilament production
Easy start-up of disc units, particularly at high yarn speeds
Universal cleaning options with acids, alkaline solutions, burning at high temperatures or in ultrasonic baths
Extremely low build-up of abrasion particles, especially when using Cerasoft®G
Cerasoft®G is also available as Cerasoft®GX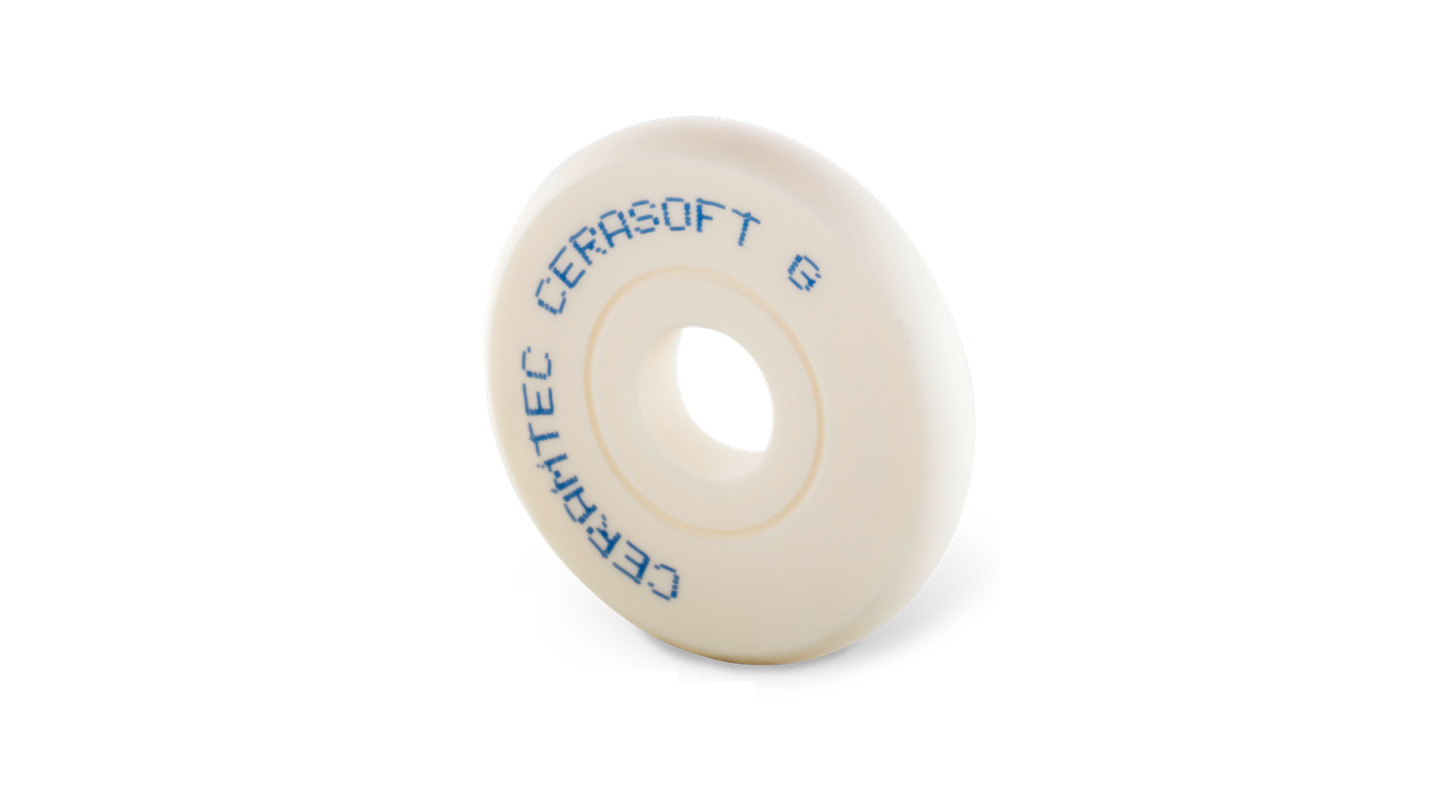 Outstanding Results with the Cerasoft®G Surface
Cerasoft®G discs with a thickness of 9 mm allow for extremely high speeds. At high yarn speeds, the disc and the yarn run with speed differences that cause conventional disc materials (polyurethane, plasma coatings, nickel/diamond) to either fail completely or fail to give a good texture to the yarn. The development of Cerasoft® and its advancements are the result of very close cooperation between texturing and preparation agent suppliers, and also between equipment and machine makers.
CeramTec friction discs are the global standard in textile machine engineering, have proven themselves through decades of use and are compatible with all spindle systems from major manufacturers such as Oerlikon Barmag, Oerlikon Barmag China, TMT, Hongyuan and Jingwei.