Ceramic-to-Metal and Glass-Ceramic-to-Metal Multipin Connector with Two or More Conductors
Ceramaseal® Multipin Connectors
Ceramaseal® multipin connectors are feedthroughs with two or more conducting pins. They are made for accepting plugs on the air side, and some feedthroughs allow for plugs on the vacuum side.
Hermetic multipin feedthroughs are used primarily to provide instrumentation signals, voltage and/or current into a high-vacuum or ultra-high vacuum environment, with an in-line connection to outside instrumentation. Ceramaseal® offers solutions for both single-ended and double-ended connection.
Ceramaseal® multipin connectors are characterized by the MIL Spec designation regarding the intended use, installation method, and number of pins. Ceramaseal® connector variations also include Sub D type connectors (MIL-C-24308) and circular connector types such as MIL-C-26482 and MIL-C-5015. In situations where voltage and current requirements are moderate, Ceramaseal® glass-ceramic-to-metal technology is able to achieve a very high pin density.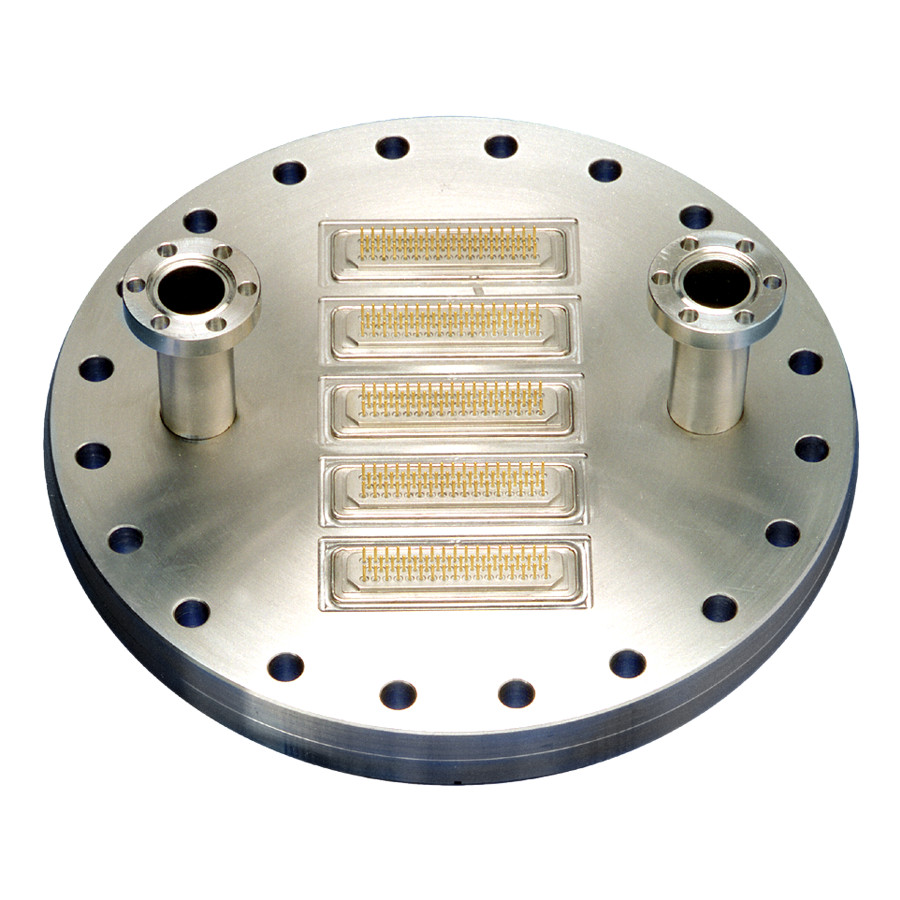 Ceramaseal® connectors are comprised of hermetically brazed ceramic-to-metal or glass-ceramic-to-metal sealed assemblies (receptacles) and one or more mating plugs. The receptacle is designed so that the overall stresses are minimized during the complex sealing process, thereby greatly improving overall operating performance.
All receptacles are made from high-purity, vacuum compatible materials. The insulators are made from high-strength, low-loss alumina ceramics that are metalized using the refractory-metal sintering process. Metals include Kovar®, stainless steel, nickel-iron alloys, cupro-nickel alloys, molybdenum, and Alumel®. The assemblies are brazed together using copper, gold-copper, or silver-copper alloys. The standard instrumentation plug is an MS-circular design.
The standard instrumentation plug is an MS-circular design.
For applications where a vacuum plug is required or higher operating temperatures needed, CeramTec has replaced the phenolic plug components with Teflon® components or ceramic inserts.
CeramTec uses advanced techniques and methods to control critical processes, including 100 percent helium leak testing and x-ray measurements for metalization control.
Standard installation mountings for Ceramaseal® multipin connectors include:
Welding (pulse-TIG, TIG, laser, E-beam welding)
ISO KF flange
ConFlat flange
NPT fitting
1" baseplate
Multipin Connector standard specifications
Voltages up to 12 kV DC
Currents up to 40 A
Temperature range from -269°C to 450°C
Internal pressure 1x10-10 torr up to 41 bar (600 psig)
Up to 50 pins/conductors
Custom designs and solutions
940-pin connection using thermocouple and instrumentation leads/cables
Combination multipin and coaxial connectors with a custom plug
Multiple combinations of circular and D connectors in a flange
Plugs bakeable up to 650°C