To overview page
Sponsor of the FUSE Annual Scientific Meeting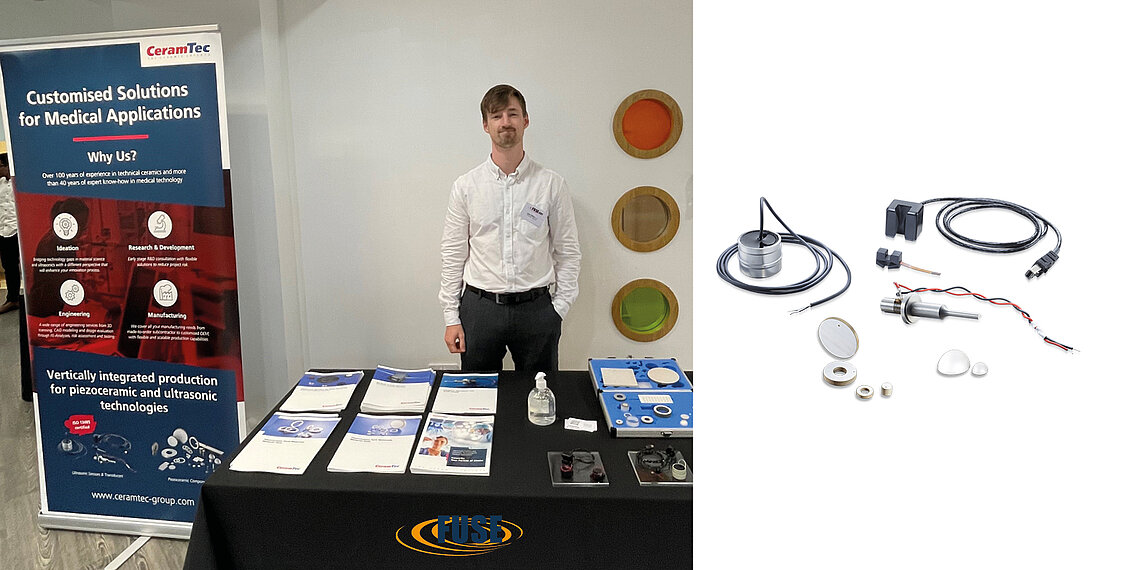 As a specialist in the develop and manufacture of ultrasonic technologies CeramTec was honoured to sponsor and present at this year's FUSE Annual Scientific Meeting in Glasgow, UK, from 21-22.06.22.
FUSE is a partnership between the Centre for Medical and Industrial Ultrasonics (C-MIU) at the University of Glasgow and the Centre for Ultrasonic Engineering (CUE) at the University of Strathclyde. It is known as the largest academic ultrasound engineering unit in the world. The Annual Scientific Meeting brings together the FUSE community of students, academics and partners to share PhD/EngD research projects, academic areas of expertise and latest research.
Liam Dillon, Business Development Manager Medical Equipment, presented on Developments in lead-free piezoceramics and ultrasonic sensor technology which was a recurring topic at the conference and the focus of several ongoing projects. Liam was able to learn more about interesting research projects focused on the future of ultrasonic surgery, measurement and imaging. He had interesting contacts during the event and raised CeramTec's profile as a manufacturer of ultrasonic technology. CeramTec was present on site with an information booth, equipped with product samples, brochures and extensive information.