To overview page
New material for new energies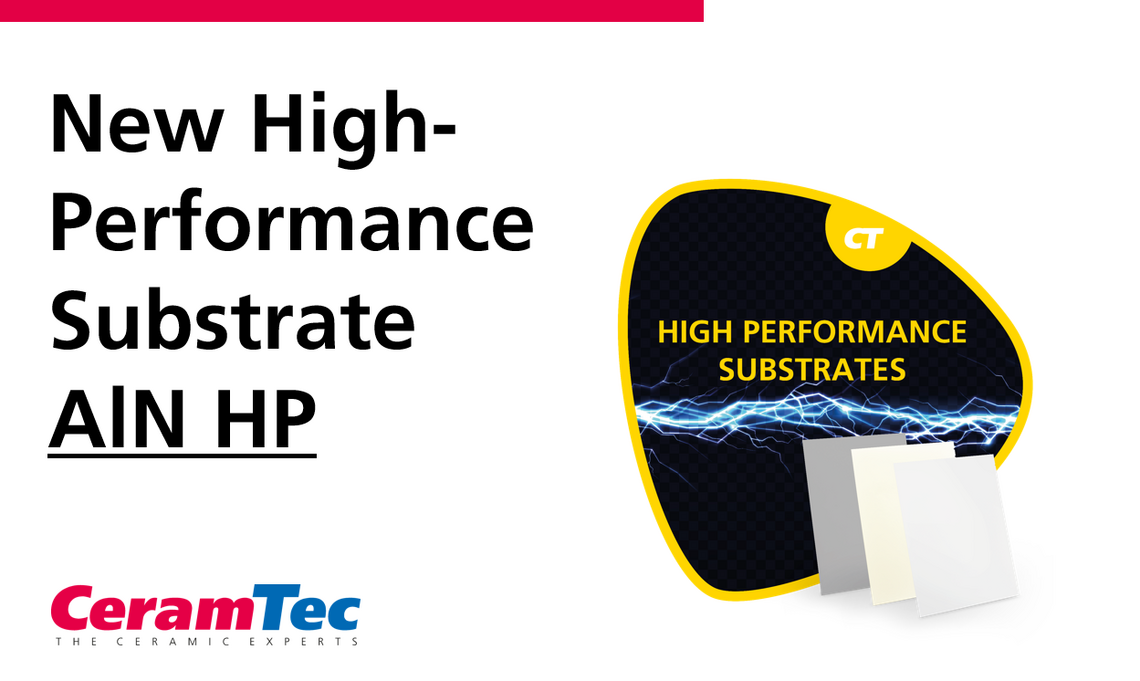 Presented at last week's PCIM Europe 2022 trade fair in Nuremberg, AlN HP is a new high-performance substrate by CeramTec. AlN stands for aluminium nitride, a material with excellent thermal conductivity ideal for use in power converters in rail vehicle construction or in the alternative energy sector. HP means high performance and expresses the material's superior flexural strength of 450 MPa (megapascals).
With the development of AlN HP and other high-tech substrates in the pipeline for this year, CeramTec is responding to the accelerated decarbonisation and electrification of many industries. The power electronics modules required for this increasing range of applications have to meet increasingly higher requirements, for example in terms of temperature resistance or miniaturisation.
With the new AlN HP substrate, CeramTec developers were able to increase the flexural strength by over 40 percent compared to the previous generation of AlN substrates. This directly benefits the durability of the final assembled power modules. Ceramic substrates such as AlN HP have a significantly higher thermal conductivity with better temperature resistance and insulation capability than PCB materials, for example. This makes such materials suitable for use in passive components, high-power LEDs or chip resistors.
What distinguishes the new CeramTec substrate AlN HP for applications in power electronics? Q&A with David Haßler, Portfolio Manager Electronics at CeramTec
Why should power electronics manufacturers take a closer look at the new AlN HP ceramic substrate?
Aluminium nitride is still one of the best materials available at a reasonable price in terms of thermal performance. Power modules are becoming more and more powerful. However, if higher currents have to be converted, this also leads to more heat loss in the modules, which are becoming smaller at the same time. This results in specific requirements with regard to increasing power densities which are excellently met by AlN HP.
Over 40 percent increase in flexural strength is not something that can be achieved within a week. How long have you worked on the material?
AlN HP is the result of about two years of development time. The high flexural strength that we have achieved ensures that the conductive metallisation does not detach from the ceramic substrate even during extreme thermal cycles, making the power converters very durable. To ensure this, we have had extensive – and, of course, successful – life cycle test series carried out for AIN HP.
When will AlN HP be available on the market?
We are launching the product as a substrate in the masterplate format of 138.0 x 190.5 x 0.635mm. D samples for qualification are available now. In the future, we will also offer other thicknesses.
Five arguments for CeramTec's AIN HP high-tech substrate:
European manufacturer with long-standing experience in ceramic substrates
Highest thermal conductivity of 170 W/mK
Significantly improved performance due to increased flexural strength of 450 MPa
Coefficient of thermal expansion similarly low to that of silicon
Outstanding electrical insulation capacity and very good dielectric strength of >15 kV/mm
More about aluminium nitride