To overview page
Modern Piezoceramic Ultrasonic Flow Sensors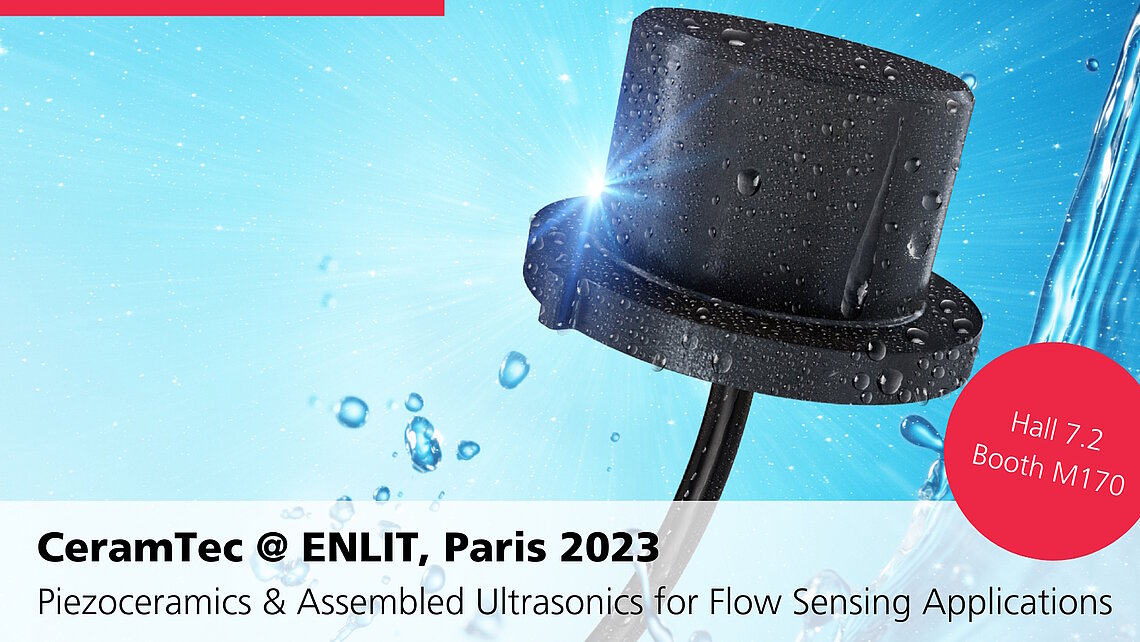 Our new piezoceramic ultrasonic flow sensors are characterised by high sensitivity and excellent reception and transmission behaviour. This ensures stable and consistent measurement results over a wide temperature range. The next-generation ultrasonic flow sensors thus form the basis for future-proof smart metering solutions in the areas of water, heating, cooling and gas.
Experience our water-coupled 2 MHz flow sensor at Enlit Europe (Booth 7.2.M170), the trade fair for the European energy industry in Paris, from 28 to 30 November 2023.
We present our next generation of piezoceramic flow sensors for ultrasonic water meters with its new 2 MHz water coupled sensors. The high-precision sensors are suitable for use in ultrasonic water and heat meters and ensure reliable operation at high pressure and over a wide temperature range from -40oC to 130°C. Our new offering represents a substantial performance improvement with the 2 MHz water coupled sensor a completely assembled sensor component in a matching plastic housing, which only needs to be plugged and wired into the ultrasonic meters.
Where sensor design and automation expertise meet
The new sensors combine many years of our experience in the development and production of high-performance ceramics with the distinctive automation know-how for application-oriented sensor design. We have complete control over the manufacturing process – from powder and piezoceramic production to complete assembly technology in accordance with the regulatory requirements of different markets. In this way, the requirements for measurement technology for sustainable and future-oriented water management can be fulfilled.
Highly precise and stable
With the 2 MHz water coupled sensors, extended ring-up time, high calibration costs, and unpredictable zero flow offset belong to the past. Due to the high degree of repeatability of the piezoceramic material properties and the associated assembly technology, the sensors do not require pairing to provide a basis for accurate measurements. In combination with modern electronics, this results in highly precise flow meters for ultrasonic domestic water meters with a minimum of calibration effort. This saves valuable time and resources in development and in late operation and maintenance.
Above standard service life
We test our piezoceramic ultrasonic sensors for water meters according to strict measurement requirements, even for situations of water hammer and extreme temperature changes. This makes the sensors robust and durable, without sacrificing measurement accuracy. We contribute our experience in topics such as drinking water approval for materials and components as well as our know-how in measuring instrument-specific requirements in accordance with the European Union Measuring Instruments Device Directive.
Larger dynamic range – diverse application possibilities
"Our range of ultrasonic flow sensors is suitable for measuring both liquid and gas flows," says Charles Dowling, Business Line Director Piezo & Sensors."With the 2 MHz water coupled sensor, we offer an application-oriented solution for manufacturers of smart metering solutions for the water industry."
Ultrasonic water meters measure the flow velocity with the help of acoustic waves. This has advantages over other measuring methods. For example, conductivity, density, temperature and viscosity of the measured liquid have hardly any influence – which increases the dynamic range, i.e., the medium to be measured. The maintenance effort of the meters is also reduced because no moving mechanical parts are necessary.
Dowling continues: "Our ultrasonic sensors and piezoceramic components expand the range for flow measurement devices and also broaden the field of application, for example with regard to level or distance detection, leakage detection or non-destructive material testing. We have set ourselves the goal of developing first-class sensors and transducers, including customised versions, that operate at temperatures of up to 150°C and withstand pressures of 200 bar. At the same time, we always keep sustainability in mind and develop our solutions accordingly. For example, we can already add lead-free alternatives to our piezoceramic portfolio."