Tool Systems for Turning with SPK® Cutting Materials
SPK® Precision Tools for Turning
Precision turning of workpieces made of cast iron, hardened steels, nickel-based alloys and materials that are difficult to machine requires perfectly designed tool systems. The CeramTec IKS clamping system and its extension with IKS-PRO and the iCT clamping system enable process-reliable and productive machining with the best handling.
CeramTec tool systems are specifically designed for turning with SPK® cutting materials. They provide a reliable system for clamping and machining even under extremely difficult conditions with pulling cuts or cuts with frequent and abrupt load changes.
Five proven clamping types – from notch type, to smooth, to center hole clamping systems – support CeramTec customers in their everyday machining tasks. All clamping systems are designed for maximum productivity in their respective application areas thanks to maximum cutting parameters. Great emphasis was placed on ensuring superior application-specific handling.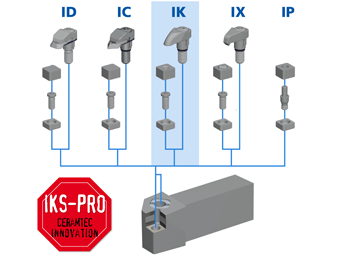 iCT: Increased Process Reliability for Machining
Reduced complexity, enhanced performance: CeramTec's high-performance iCT tool system features a completely revised clamping system for optimised performance. At the same time, the number of variants has been reduced to enable easier handling and greater security for customers when assigning spare parts to the tools.


Conversion made easy
CeramTec "Easy Change" Technology
All CeramTec carrier tool systems can be equipped with the IKS clamping system. Our "Easy Change" technology makes it possible to change from one clamping system to another – even at a later time – without having to replace the base. All you need to do is replace the clamping element or the shim. With "Easy Change" technology it's just as easy to change from ceramic inserts to PcBN inserts. And all standard tool changing systems can be equipped with the CeramTec IKS clamping system, too. This combines the advantages of the IKS clamping system and those of the tool clamping system into a precise and reliable cutting tool.
SPK® Precision Tools for Turning
CeramTec offers a comprehensive range of reliable tools and tool systems for using ceramic cutting materials, PcBN and cermet in turning operations. Machining tasks for turning can be comfortably, practically and inexpensively solved with the tools for external and internal machining, ISO cartridges and solutions for tool changing systems. With many years of practical experience CeramTec assists customers in the design of special tools, delivering optimum machining solutions that take technology and economic viability into account.